Make your commercial building look its best.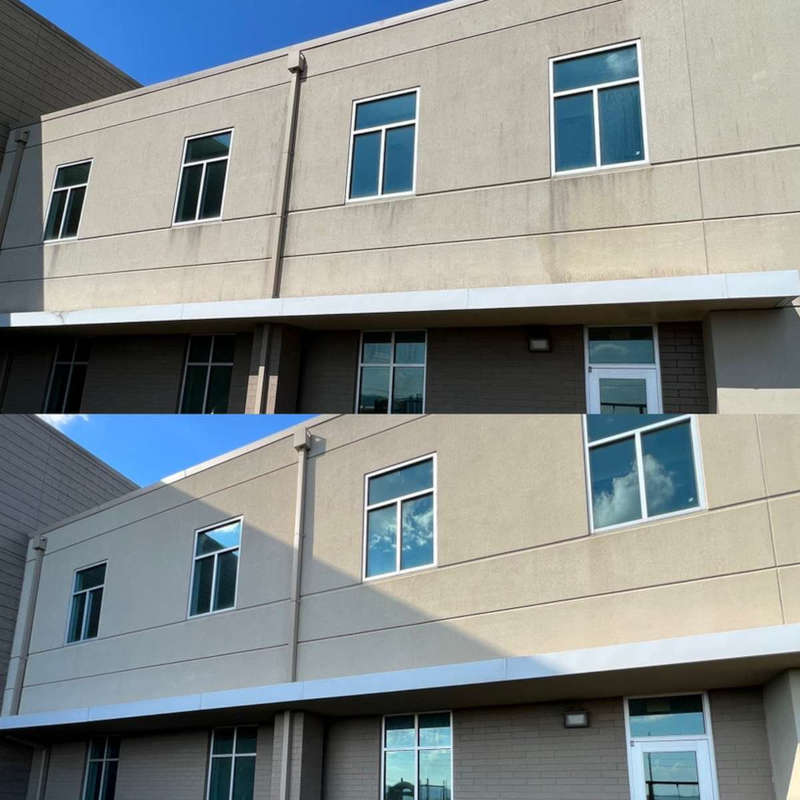 When clients, customers, and even your employees show up to your office, you want to make a good impression. But this is hard to do if your building's siding is streaked with dirt, your sidewalks are covered in mold and moss, and there are black streaks all over your roof. What's the solution? Call us at Nashville Soft Wash Pros to revive your office building's exterior.
We're an exterior office cleaning company in the Nashville, Tennessee area known for our exceptional cleaning processes and the results we get on every job. We can clean everything from your office's roof to your sidewalks, and we'll completely transform the way your building looks with our proven solutions and processes.
As an exterior office cleaning company, we do both pressure washing and soft washing. Both cleaning methods provide different advantages, and we'll determine what cleaning method is best based on the surface you want us to clean. We'll also answer any questions you have about our cleaning processes and give you a reliable quote before we start.
Our goal is to exceed your expectations with our cleaning services, so you never question which exterior office cleaning company you'll call in the future. To learn more about our cleaning services or to schedule a cleaning appointment with us, get in touch with us today. Our cleaning pros are ready and waiting to hear from you and answer all of your questions!
FAQs About Exterior Office Cleaning Services
If you're a business owner in the Nashville, Tennessee region, you probably understand the importance of making a great first impression on your clients. You likely strive to dress professionally and maintain a clean interior office space, but what about your office building's exterior features? If your building is looking a little worn-out or dirty, we encourage you to choose our team at Nashville Soft Wash Pros for the professional exterior office cleaning services you deserve.
Why should I choose soft washing services?
Soft washing is an upgrade from pressure washing. Most pressure washers simply blast dirt and particles away without actually cleaning or sanitizing the surfaces. Furthermore, pressure washers can potentially damage certain materials, such as roof shingles or vinyl siding, and strip the paint off decks and patios. Soft washing is a gentle, environmentally friendly solution that treats various contaminants at the source and leaves the surfaces clean, sanitized, and more resistant to algae, bacteria, dirt, and more.
What areas of my business property can you clean?
Our skilled, detail-oriented cleaning technicians are equipped to tackle nearly all your exterior spaces. You can rely on us to provide efficient and thorough cleaning services for your windows, siding, and roof, in addition to your parking lot and sidewalks. We will only utilize our pressure washer for the toughest and most durable surfaces, such as concrete, and use our soft washing solutions for all other applications. To learn more about our exterior cleaning methods, simply give us a call today.
Similar Services We Offer: