Soft washing is the preferred method for solar panel cleaning.
If your home relies on solar panels to supply your power, we can clean them up to look shiny and new. Our solar panel cleaning services are safe for your technology, as well as your pets, plants, and family due to our blend of biodegradable, safe chemicals that break down bacteria and other kinds of dirt. This ensures you get the most out of your solar panel cleaning job.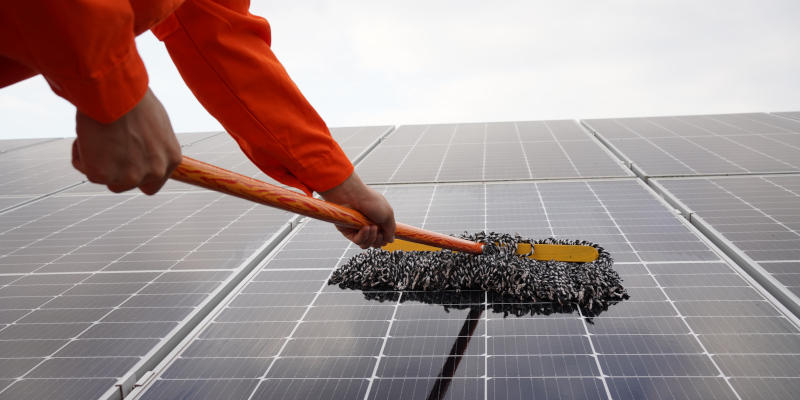 Soft washing is ideal for solar panel cleaning because, unlike power washing, it doesn't damage the surface that's getting cleaned with high pressure. To ensure the safety of your home's technology and get your solar panels really clean, soft washing is the best choice you can make.
At Nashville Soft Wash Pros, we understand the importance of maintaining your Nashville, Tennessee home at an optimal level. Our experts will work with you every step of the way to ensure you're completely happy with the results of your solar panel cleaning service. We also offer a 100% satisfaction guaranteed promise so that you can enjoy the results of your solar panel cleaning job at a high level of quality and accuracy for your home.
When you're ready to hear more about solar panel cleaning, give us a call. Our experts are ready and willing to help you figure out the best course of action for your solar panels, and we promise to get your home cleaned right every time so you can focus on doing what you do best.
FAQs About Solar Panel Cleaning
Today, more and more homeowners are choosing to switch to solar panels to reduce both their energy bills and their carbon footprints. However, while solar panels are definitely a great investment, they can only do their job when they're kept free of dirt and debris. Our team here at Nashville Soft Wash Pros offers solar panel cleaning solutions to help ensure your renewable energy source is operating at full capacity.
Can I wash my solar panels myself?
You can certainly try, but you should be aware of the potential risks first. Most importantly, you know that your solar panels are expensive, so you need to be careful with the cleaning supplies you use and how you access your solar panels. Some store-bought cleaners can either not have an effect on stubborn grime at all or they can cause lasting damage to the sensitive surfaces.
Why is soft washing best for cleaning solar panels?
Soft washing is a gentle, safe alternative to pressure washers and harsh cleaning chemicals. It's made of eco-friendly cleansers, so it won't damage your solar panels, your roof, or your landscaping. Furthermore, since soft washing techniques target grime at the source, your panels will be left clean and more resistant to future organic buildup.
How often should my solar panels be cleaned?
This can vary a lot depending on where you live and what kind of debris your property is susceptible to. For example, if your home is surrounded by trees, you might end up with more leaves and debris covering up your solar panels and reducing their effectiveness. Keep a close eye on your energy bills to see when your solar panels aren't working at full capacity, and then be sure to give us a call for a cleaning service!