Hire us for professional roof cleaning.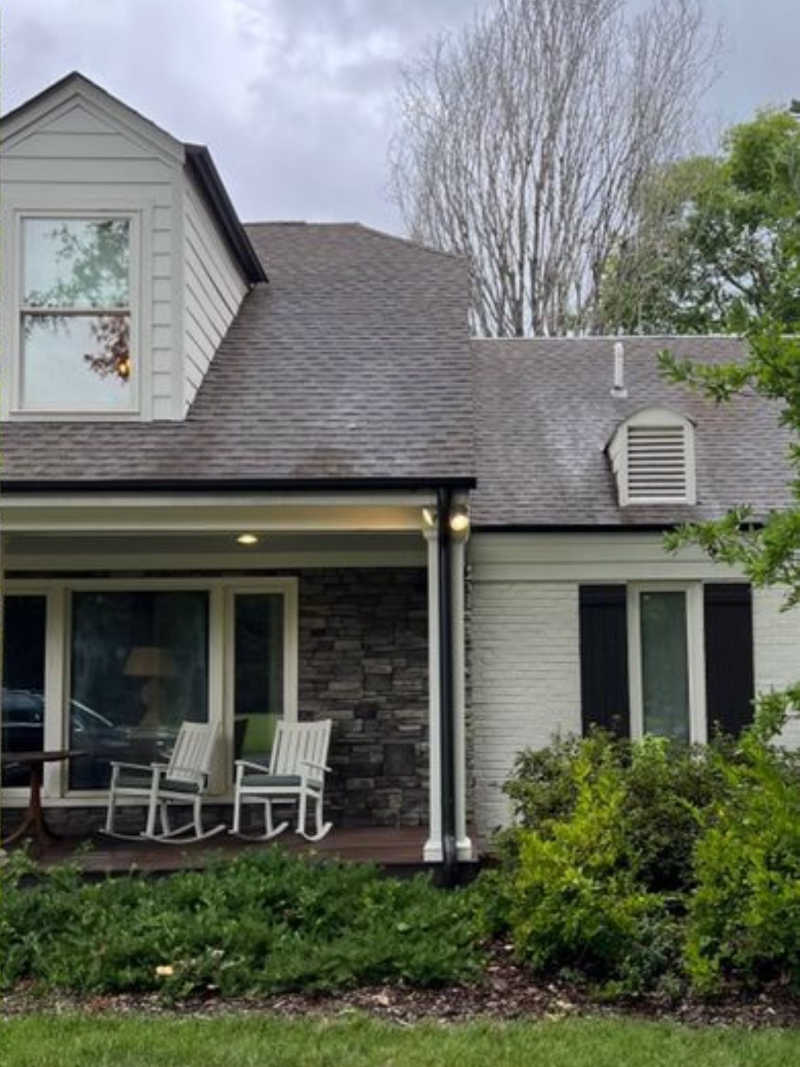 It's not uncommon for unsightly algae to develop on the roofs of houses in the Nashville, Tennessee area. If your roof has started to develop dark brown, green, or black streaks, this buildup can make your home look older than it actually is and impact its overall curb appeal.
To eliminate those unattractive streaks from your roof, you're going to need to work with a roof cleaning company that can get exceptional results. At Nashville Soft Wash Pros, we are that company, and we are here to provide incredible roof cleaning services for your home.
We can clean metal, tile, and asphalt shingles. In most cases, we will soft wash your roof. This process gets rid of contaminants safely, without damaging your roof. Unlike pressure washing, which uses water pressure to blast away dirt, soft washing uses a special blend of chemicals to kill the source of the dirt buildup, whether it be mold, moss, algae, or other contaminants. The results of softwashing last four to six times longer than pressure washing, and it is more environmentally friendly, since it uses much less water.
Our roof cleaning company is known for the results we get when we clean roofs, as well as our honesty and integrity, professionalism, and dedicated staff members. You won't be disappointed in the quality of our services and the level of customer service we provide on all jobs.
Make your roof and your entire home look its absolute best with our trusted soft washing solutions. To learn more about our approach to roof cleaning and the processes we use, reach out to us today.
FAQs About Residential Roof Cleaning
As a homeowner, you might not think about the roof above your head until something goes noticeably wrong. However, at Nashville Soft Wash Pros, we know that regular roof cleaning can help extend the lifespan of your roof and catch any potential problems before they have the chance to turn into bigger issues. If you can't remember the last time you had your home's roof cleaned, we've answered some frequently asked questions to help you decide if it's time to give us a call.
How often should my roof be professionally cleaned?
It's generally recommended to have your roof cleaned at least every 5 years or so. However, this can vary depending on the type of roof you have, how old it is, and how much buildup has accumulated on your roof. For instance, if you have a shingle roof that has a frequent mold problem, you may want to schedule an annual roof cleaning service.
Why is soft washing recommended for residential roofs?
Although roofing materials are designed to be resilient, pressure washers can still cause damage to them and weaken the structural integrity of your roof. Furthermore, pressure washing doesn't actually clean your roof; it simply blasts the contaminants away without treating the surface. Soft washing methods are gentler, but the results last longer because the eco-friendly cleaning solutions target contaminants at the source. As the cleansers break down the different types of buildup, your roof will be left visibly cleaner and sanitized, preventing buildup from accumulating as quickly in the future.