Make your deck look its best with our cleaning solutions.
You love spending time out on your deck with your friends and family members. Not only is your deck a central gathering spot, but it's also a great place to sit back, relax, and enjoy the beauty of the outdoors. But this only happens if your deck is clean and inviting – if your deck is covered in mold, moss, algae, and other buildup, you're less likely to use your deck to its full potential.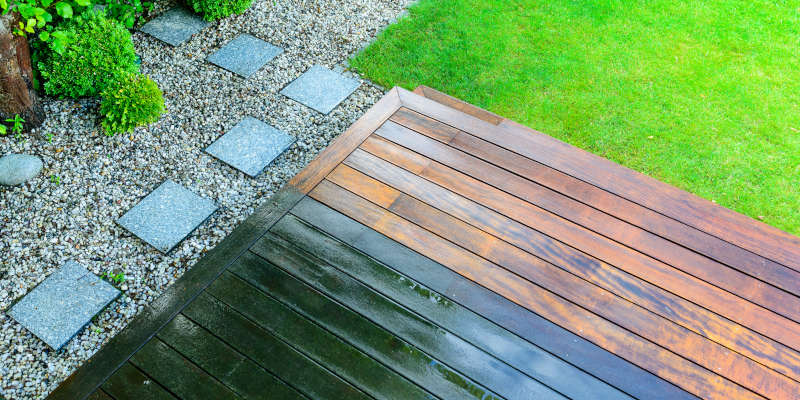 If your deck is covered in buildup and rinsing it off with your hose just isn't getting it truly clean, it's time to call our deck cleaning professionals at Nashville Soft Wash Pros. We provide a variety of exterior cleaning services, including deck cleaning, in the Nashville, Tennessee area, and we'll get great results for your deck and any other surfaces you have us clean.
In most cases, soft washing will be the right approach for your deck. This method gently removes contaminants without causing any damage to your deck. We always take an individualized approach to cleaning decks and other surfaces so that we can get great results while also providing a custom result. Our goal is to exceed your expectations not only with our deck cleaning services, but also with our customer service.
The next time you want to revive your deck and eliminate all that dirt, grime, and buildup from it, make our exterior cleaning company the one you call. Contact us today to get a quote for deck cleaning and to learn more about what we do.
FAQs About Deck Cleaning
Decks expand your living space for an extra dining area, a place to relax, or a chance to work from home and enjoy the great outdoors. However, when your deck isn't in the best shape, you might use it less and less. That's where our team comes in. We offer deck cleaning services using the latest techniques and tools to help you enjoy your deck again. Check out the questions we're commonly asked about this service below.
Display NONE
How do you soft wash a deck?
Deck cleaning using the soft wash technique provides a gentle and effective way to keep your deck clean and in good shape. We use low-pressure water and a specialized cleaning solution to eliminate dirt, algae, mold, and other things on your deck's surface without damaging it.
Is it safe to clean all kinds of decks with the soft wash method?
Cleaning a deck with the soft wash method is safe for many deck types. However, hiring our team ensures your deck gets the treatment it needs, thanks to our experience in the industry. We will assess your deck and review your cleaning options to ensure all your questions are answered.
How often should my deck be cleaned?
This depends on the weather, how often you use your deck, what type of material it's made out of, and more. Generally, cleaning your deck once or twice a year is enough to keep it in good shape, but every deck is different. When you contact our team, we will customize a cleaning plan that best fits your needs.
Can deck cleaning eliminate stains and spots?
Yes, our unique soft wash solution is an excellent way to get rid of stains, discoloration, and other pollutants on your deck. Our cleaning solutions break down these items to help your deck look new again.
Similar Services We Offer: